Typically constructed within redundant buildings or warehouse units, vertical farms are becoming an established sector of the farming industry, but what about container farms? In simple terms, a container farm is a vertical farming system that is built inside a shipping container.
Its key benefit over more traditional vertical farms is its flexibility – placing a farm within a container rather than a building makes it transportable and it can be slotted into a vast range of spaces, from car parks to farmland.
Other significant benefits of container farming are low cost of entry, consistent crop yields in any climate, and being easy to manage and add to.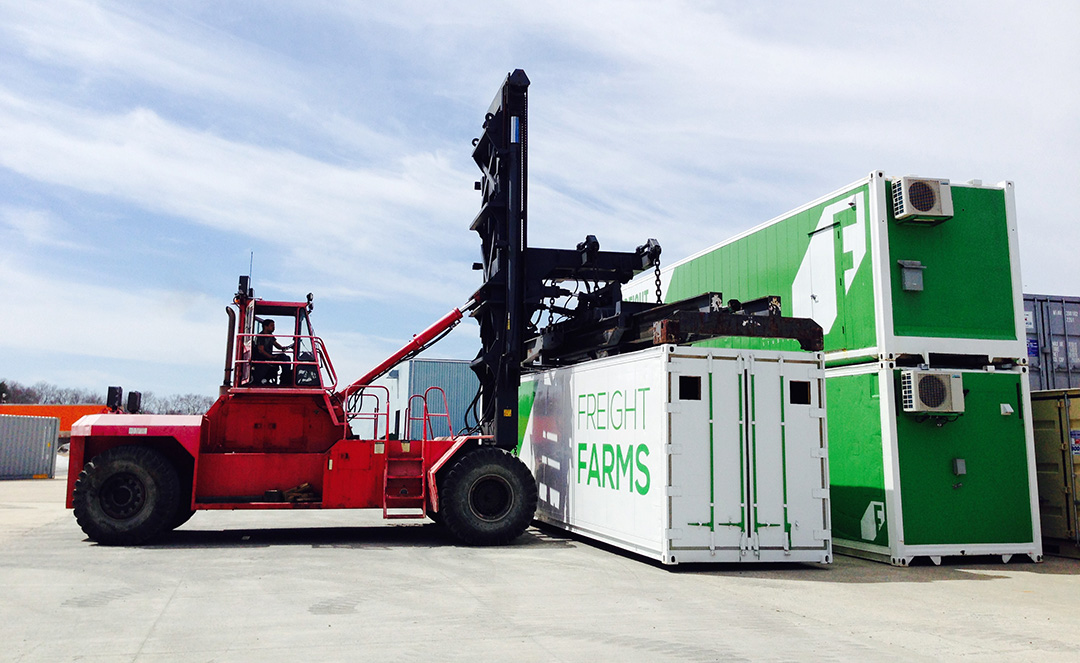 Rick Vanzura is CEO at Freight Farms, a Boston-based agritech company that was the first to sell and manufacture container farms. Since its launch in 2012, Vanzura says the market has expanded through use cases like for-profit, education, hospitality and food banks, as well as geographically – he says container farms are now in 41 countries.
Vanzura says each Freight Farms unit uses only five gallons of water daily, no soil and can grow the equivalent of 2.5 acres worth of land.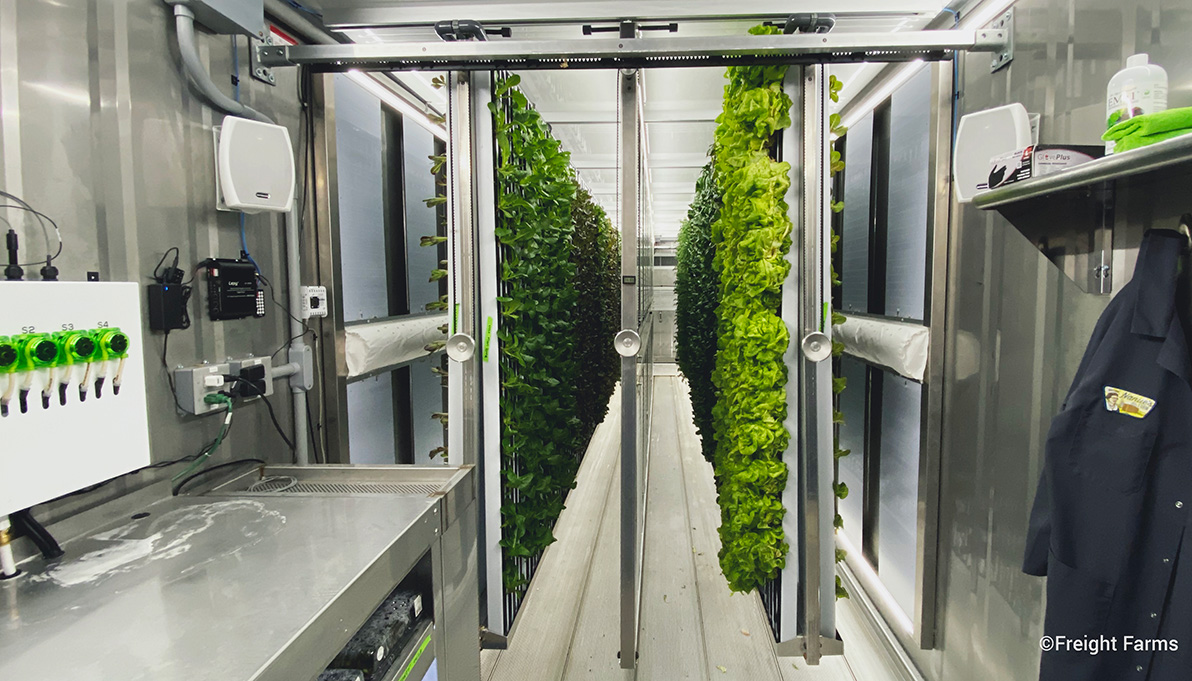 "Container farming remains in its infancy as an industry, and we believe it will be a key long term solution to the ever increasing dual threats of climate change and global food insecurity," says Vanzura.
"The key challenge to overcome is the amount and cost of electricity required to operate the farm. At the present moment, farmers can partially offset energy use with a solar array and also use the farm in 'eco mode,' which provides marginal energy reduction."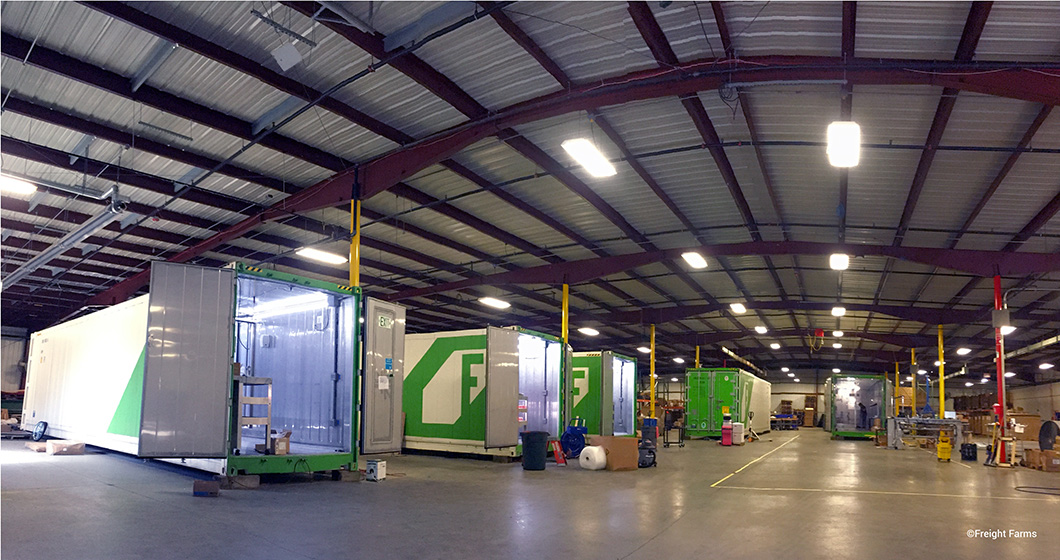 ---
Scaling and flexibility
Thanks to their flexibility, container farms have huge potential for a breadth of customer types – Freight Farms' customers, for example, range from for-profit farmers to YMCA locations, and higher education to grocery stores.
While the small size of a container makes it an accessible entry point to farming, it also makes it a challenge to scale effectively.
India Langley, food systems research lead at UK-based indoor farming technology provider LettUs Grow, believes this is one of the biggest challenges of container farming.
She notes that container farms need to be designed to work together, share resources and support each other – but says that more container farms are being used as a stepping stone to trial new growing systems for larger, more bespoke facilities running at the hectare scale.
"Because of its size and moveability, a container farm can slot into most locations – all it needs is level ground and a water and electricity hook up," says Langley. "It also doesn't require planning permission like other growing structures because it can be picked up and moved elsewhere.
"This is ideal if you want to conduct a pilot or research project, are localising food systems in a small area, or need to fit it in a tight spot on an existing farm."
Langley says the amount of choice in the container farming sector has increased hugely in recent years, allowing for more specialisation.
"No two farms of any type really look the same," she says. "You can now access container farms with different irrigation systems – like our aeroponics – or geared towards a wide range of crop architectures, from strawberries to animal feed."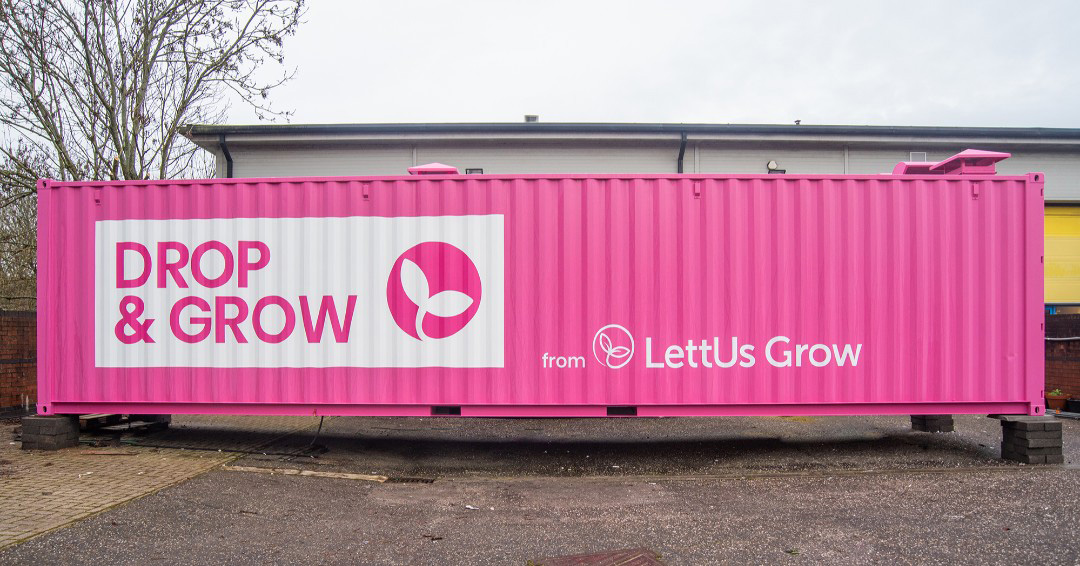 ---
Flexible image
While the benefits of container farms are undeniable, attitudes towards their industrial appearance have been mixed.
Gabriel Zarafonitis, CEO and cofounder of Canada-based container farm manufacturer FarmAnywhere, says different jurisdictions were initially a "little bit shy" about containers because of concerns their towns and cities could end up looking like ports.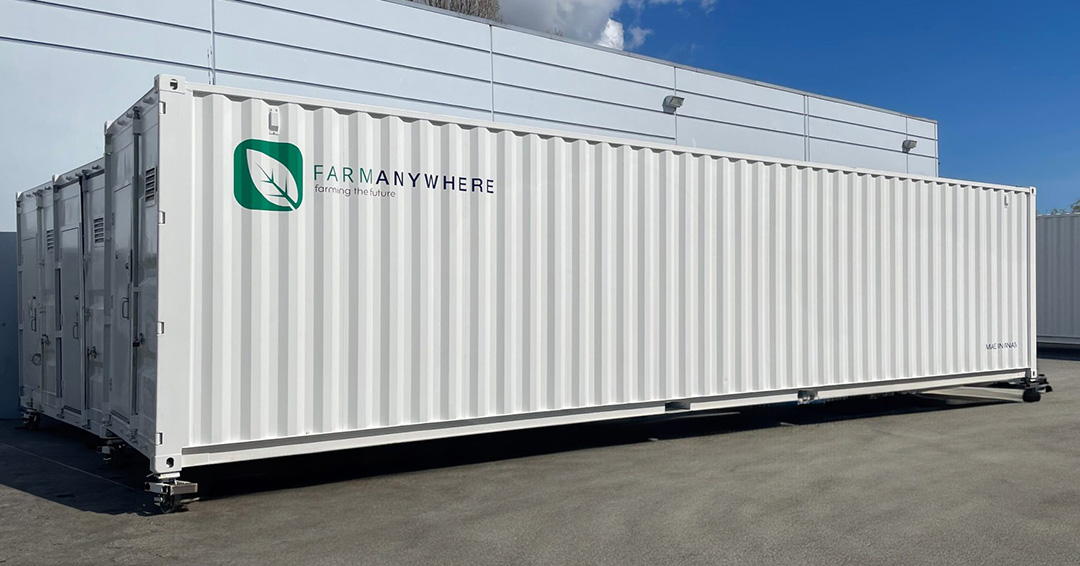 However, once containers are outfitted and painted, they can become an artistic focal point in the community – many, he says, are even painted with murals. If this isn't feasible, the containers can be used inside, too.
"A lot of use cases for containers are putting them within warehouses," says Zarafonitis. "This was pioneered in part by the cannabis industry in Canada, where landlords were nervous about the buildings themselves being changed. Instead, they used containers inside the warehouses.
"There is better biosecurity between containers – it allows you to have perpetual growth, but also have security in your supply chain too. If that building needs to be changed or expanded, you can move containers around and have the equipment go with you."
An agile market
Zarafonitis started FarmAnywhere in 2017 as a fully automated manufacturer, which he says turned out to be "a bit of a mistake" as it was too soon and very expensive. The business closed down manufacturing to do design for traditional vertical farming operations instead for inside buildings and other shipping container farms.
However, the pandemic changed the company's approach again. Covid-19 put significant pressure on supply chains and Zarafonitis saw an opportunity to get back to manufacturing and "push the limit when it came to mass production" – a little bit like, he says, Henry Ford with the car.
Zarafonitis' approach shows how adapting to the demands of communities and industry is a smart way to help the container farming sector continue its growth.
"In the coming years, I predict a huge expansion for the container farming industry – especially for remote communities, the Caribbean nations and the MENA region," says Zarafonitis. "In addition, I expect there will be consolidation between players – and hopefully more collaboration, too."