The great and the good of indoor farming gathered at the Vertical Farming World Congress 2023 in London today. In the face of some high profile indoor farming failures this year, press coverage of the sector has been none too positive, however, the general message coming from the various speakers on the congress' first day was one of optimism, provided that business expectations are tempered with realism.
"No profitability, stupid business models, trying to redefine a whole category, too many people buying in tech, trying to reinvent the wheel." were some possible causes of failure put forward by James Lloyd Jones of vertical farming company Jones Food Company.
Tristan Fischer, Founder and CEO of Fischer Farms added that for vertical farm start-ups "Spending huge amounts of money on marketing is an unnecessary expense, vertical farming should sell itself because it's amazing." He continued "Not enough automation, manual harvesting isn't logical. Too much money from investors can be bad, it can make you sloppy."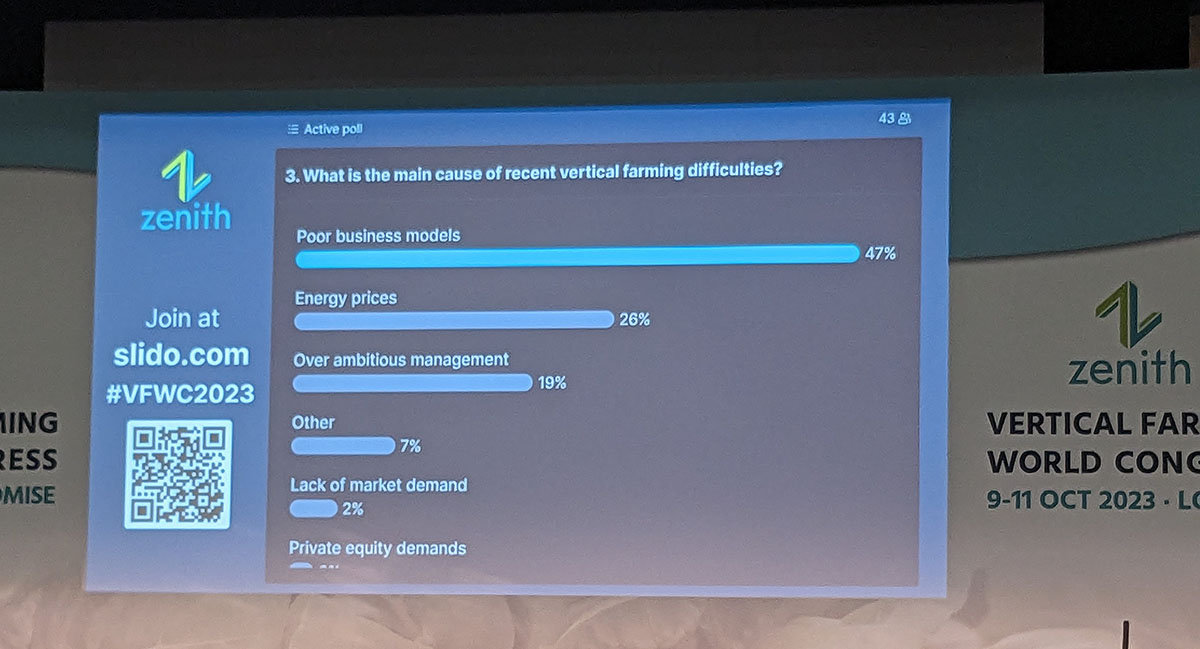 Professor Francesco Orsini of the University of Bologna was keen to highlight that energy, most often blamed for business failures,  is also not just all about cost. "Sometimes we hear that we can power vertical farms with solar panels, if we look at efficiency in transferring light to energy and energy to light… 1sqm of vertical farm needs 28sqm of solar panels." he said. At Vertical Farming Today we wonder if that might have contributed to the demise of Netherlands firm Future Crops back in January, a firm which began life with access to 18,000 solar panels.
Success through crop phases
Some vertical farming start-ups begin with unproven niche crop choices, often for noble causes. Based in Northern England, Gooddrop Ltd are scaling up their production of vertically farmed cotton, intent on spinning it themselves to produce thread and a range of clothing. Others have trialled coffee and tea, whilst Brazil's Pink Farms are now tackling mushrooms – the humid climate of Latin America apparently providing the ideal conditions for growth in a wood-based substrate.
Tristan Fischer referred to more complex crops as 'phase three crops', with phase one being the more commonly grown leafy greens – the metaphorical 'low hanging fruit' of the vertical farming world. Prove your vertical farm's business model is profitable with fast growing lettuce, microgreens and basil and then maybe some years down the line you can tackle phase two (fruit) followed by phase three's staples of rice, wheat, peas, soy and other more difficult crops. "We need significantly lower electricity prices, more efficient lights and more automation before we tackle those" said Fischer.
Citing the automotive industry as an example to vertical farming Fischer added that "The industry is at an inflection point, we have been here before historically, where technological approaches are diverse but eventually a winning process emerges." He urged vertical growers to "keep at it". A need for greater industry collaboration was touched on a number of times throughout the day and evening.
Professor Derek Stewart, Director of the Advanced Plant Growth Centre at James Hutton Institute in Scotland was keen to remind us that the pharmaceutical market will also one day present a huge opportunity. Could opium poppies be grown to produce morphine for medical use? He asked. The pharma market is also on the radar of Italy's Planet Farms, co-founder and co-CEO Daniele Benatoff delivering a whirlwind summary of some of the firm's more exotic experiments including specially bred basil for Milan's 3 star Michelin chefs.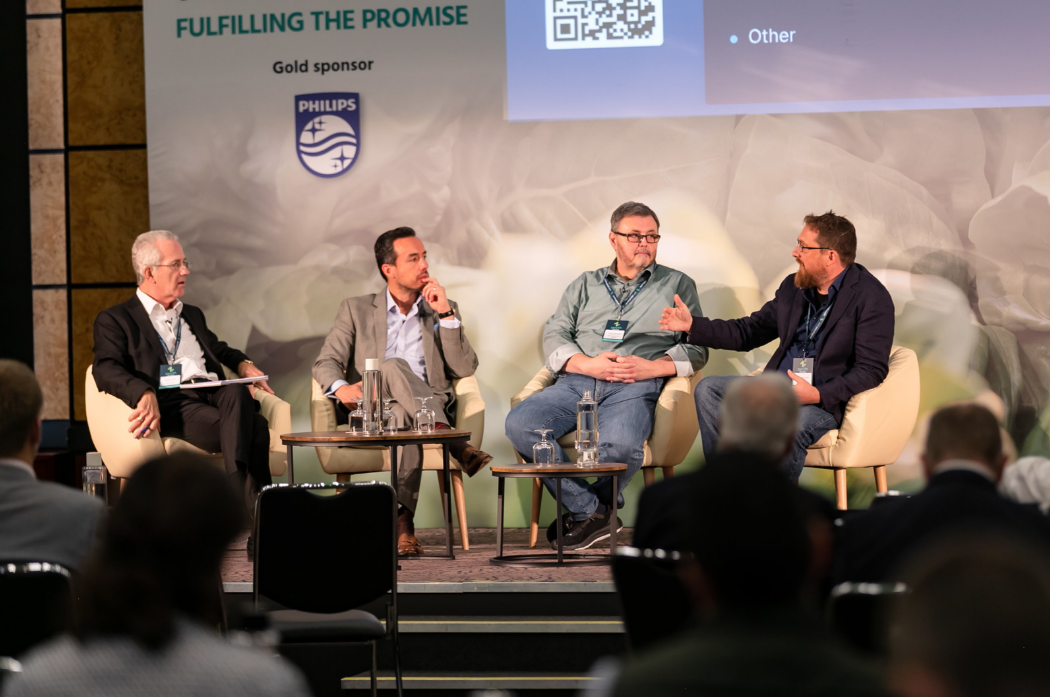 Crawl, walk, run to success
Choosing to crawl before you walk and then run, was a well advised strategy from experienced indoor grower Tisha Livingston, CEO of Infinite Acres and President of 80 Acres. Livingston highlighted that she began vertical farming with a container farm – a much more forgiving investment and "easier to screw up and start over again" (without losing millions of dollars). GrowUp Farms' Founder Kate Hofman also revealed that her business began life with container farm learnings, GrowUp farms now supplies bagged salads nationwide via hundreds of UK supermarkets from its Pepperness farm in Kent, UK.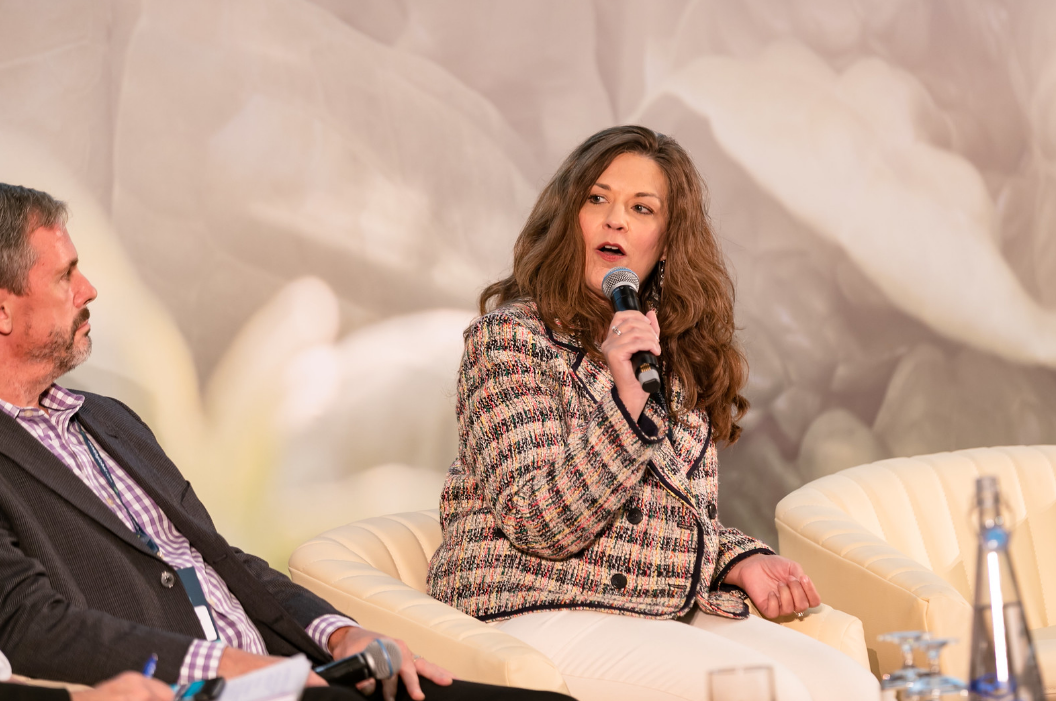 Container farms are an increasingly popular way of starting a vertical farm for the inexperienced grower. "You need attention to detail to run a container farm, but only 20% of our container farm customers have an agricultural background" said Rick Vanzura CEO of Freight Farms. The company delivers the fitted shipping containers and customers do the growing by following instructions.
Vanzura told delegates that he believes his company has the world's largest network of container farms, more than 600 of its 'Greenery S' container farms are in place in 40 countries around the world with Mexico set to become country number 41. Given that the firm was recently valued at US$147 million and plans to go public via a merger with special purpose acquisition company (SPAC) Agrinam Acquisition Corp there's no reason to question Vanzura's assertions or the future of container farming.
Building trust in vertical farming for success
It was clear from event discussions that trust in vertically farmed produce like bagged salads is not much of an issue for the end consumer – local is good, fresh even better and tasty just perfect for the average customer. Surprisingly vertical growers have found that vertically farmed or pesticide free factors are not particularly high selling factors at all.
For the supermarkets themselves however trust in supply is key. If a company commits to a regular supply of year round vertically farmed produce they want to know it's reliable and meets their food security needs. They also need to know that the produce they receive is traceable and of the best quality, but they need no convincing about the merits of a longer shelf life.
Finally it was noted that supermarket buyers care little for light wave spectrum details – vertical farming businesses were advised to avoid too much technical speak, sell the food not the technology.