Nouryon a global, specialty chemicals company, has invested in AGEYE Technologies, a technology company developing an automation platform for indoor farming. The AGEYE platform monitors individual plants around the clock and uses artificial intelligence to turn visual inputs into crop growth development insights and autonomous actions that improve the predictability and profitability of harvests for growers.
AGEYE's digital technology combines the principles of plant eco-physiology and precision farming to create an intelligent indoor farming platform that maximises 'per plant' growth rate, development, morphology, physiology, and ultimately improvement of crop yield, phytochemical content, and flavour.
Growers can instantly access critical information relating to the health and development of their crops, including the height, fresh mass, and growth rate of individual crops, the distribution of leaf temperatures and airflow across layers, and the overall harvest readiness of a cycle.
"The AGEYE platform's ability to rapidly identify localised growth irregularities and implement corrective actions is an excellent complement to Nouryon's crop nutrition and crop protection product portfolio," said Ignacio Garin, Vice President, Agriculture and Food at Nouryon. "We look forward to collaborating closely with AGEYE to accelerate the development of this revolutionary technology and offer our customers the next generation of solutions in the indoor farming sector."
Nouryon will bring its expertise in crop protection and crop nutrition to the collaboration and further enhance AGEYE's precision farming technology to optimise indoor growing at scale for growers.
"We are very pleased to partner with Nouryon – they have an extensive global reach in serving fertigation and hydroponics applications with micronutrients and specialty fertilisers and we share a vision of advancing the sustainability of indoor farming," said Nick Genty, Co-Founder and CEO of AGEYE. "We look forward to collaborating and supporting the rapidly growing market of indoor farming."
"At Nouryon, we are constantly assessing investment opportunities in emerging and sustainable technologies that have the potential to become a disruptive force in our key end-markets including Agriculture and Food, Home and Personal Care, and Paints and Coatings," said Rajeev Rao, Nouryon Senior Vice President of Corporate Development. "AGEYE's next-generation digital platform has the potential to transform indoor farming."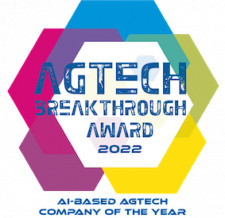 AGEYE has been recognised as the 'AI-based AgTech Company of the Year' by the 2022 AgTech Breakthrough Awards and 'Overall Sensor Solution of the Year' by the 2021 AgTech Breakthrough Awards. Founded in 2018, AGEYE has offices in Raleigh, North Carolina (USA) and Bangalore, Karnataka (India).
Nouryon is also a strategic partner in Icos Capital Fund III which invests in innovative scale-ups developing sustainable technologies in the chemical and food sectors.