In June 2022, Continental and Dutch-Belgian technology company Octiva signed a collaboration agreement to develop autonomous mobile robotic solutions for horticultural applications. This month Continental plans to use Agritechnica (12-18 November, 2023) as a launchpad to demonstrate the progress of those robotic solutions and other non-tyre agricultural technology.
At a press conference on Monday, November 13, 2023 Continental will provide more detail about its new greenhouse robot, capable of treating plants with ultraviolet light (UVC), selective harvesting and scouting activities. In partnership with Octiva, the robot is being readied for sale in 2024 and will be capable of operating multiple implements 24/7 for greenhouse operations seeking to automate crop management.
---
Herbicide-free Weed Control System
Amongst the other new technology being presented by Continental is a tractor mounted 'Weed Control System' that uses artificial intelligence (AI) and boiling water to control weeds.
The system, designed and engineered by Continental Engineering Services (CES), is based on optical sensor technology, supported by automotive grade software and AI to pinpoint areas in crops that need attention.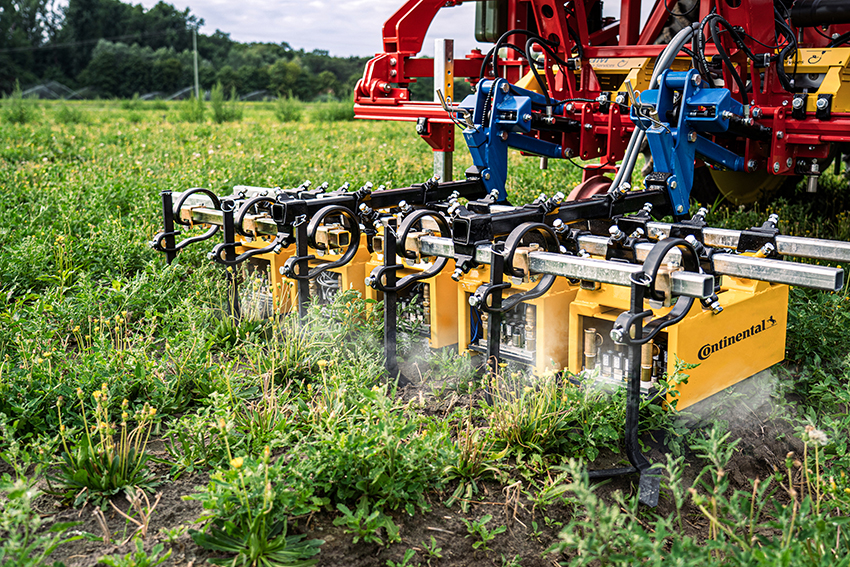 ---
Continental will also demonstrate its 360-degree tractor camera, new harvester draper belts, tyre sensors and wide illumination LED lights for agricultural machinery.
The Continental booth at Agritechnica will be located at A19 in Hall 20, the press conference commences at 9.30am.