Based in Silicon Valley, agtech start-up Iron Ox operates farms in California and is soon to begin selling produce from its new 535,000 sq. ft. indoor farm in Texas. The firm has had a bumper quarter to end 2021, it included a US$53 million 'Series C' funding round and the launch of TWO new farming robots as it enters what it calls 'hyper growth mode'.
Unlike vertical farms, Iron Ox grows plants under natural sunlight, the company focuses on artificial intelligence, machine learning, computer vision, and robotics to optimise output. This enables the company to grow more with less, in its greenhouses it claims to produce thirty times more produce per acre than traditional farming and the process uses 90% less water. Its robots tend to a wide variety of produce, from strawberries to tomatoes and leafy greens.
Grover – the autonomous module mover
In November Iron Ox launched 'Grover', an autonomous robot that can lift more than 1,000lbs thanks to its unique rocker suspension and motors. Grover moves 6-by-6 ft modules of hydroponically fed plants throughout the greenhouse as it assists in the monitoring, watering and harvesting of produce.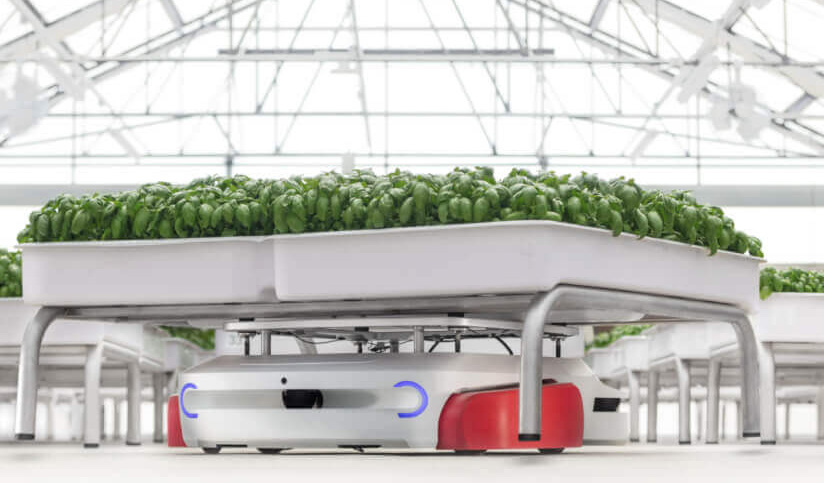 Grover employs a differential drive system, multiple LiDAR systems, upward and forward-facing camera systems. Modules are regularly transported by Grover to a scanning booth for inspection and based on the results, they are taken for additional water, nutrients or harvesting.
"Designing and building Gover was a complex multi-year project, solving for many challenges in hardware, software, autonomy and mobility. We assembled a world class team to achieve this," says Sarah Osentoski, Iron Ox Senior Vice President of Engineering. "Our goal is to make Iron Ox a centre for excellence in agriculture with a core competence in artificial intelligence and machine learning."
Phil – the feed monitoring robot
This week Iron Ox has given its Grover robot a companion called 'Phil'. Phil is a robot that uses state-of-the-art sensor technology to monitor the water, nutrient mix and pH levels for each plant module on the farm.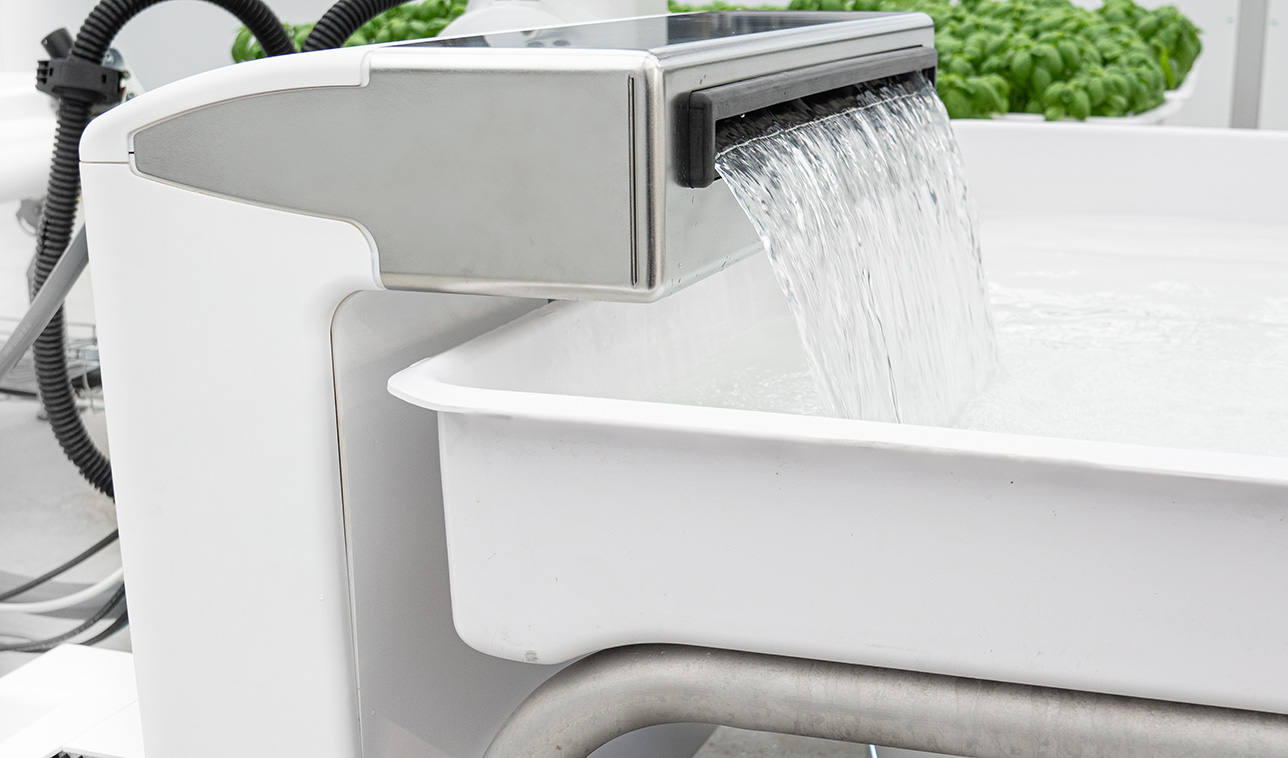 Phil provides Iron Ox's plant scientists with nutrient content and pH level data to make informed decisions and give plants exactly what they need. The feed monitoring robot is also equipped with ultraviolet LEDs for quick and efficient sanitising without producing waste.
"The clever thing with Phil is that we can adjust each of the thousands of modules in our Texas greenhouse to grow the same and/or a variety of crops under different nutrient profiles, which in our controlled environment, rapidly accelerates our understanding of plant science," says Brandon Alexander, Iron Ox CEO
"This not only allows our grow team to optimise for the market demand, while giving each and every plant exactly what it needs – eliminating waste, but ultimately this knowledge can and will benefit the entire industry"
How Grover and Phil work together
Grover retrieves and transports a 6-by-6-foot plant module and docks with Phil. Phil then uses its advanced sensors to hygienically fill the module to precisely the required volume and nutrient mix. Phil can fill each 6-by-6-foot plant module in under two minutes.
Once completed the filled module (each weighing 1,000lbs) is ready for Grover to deliver it to its destination. Iron Ox likens the relationship between the two robots to a Formula One pitstop.
"The addition of Phil enables fast throughput of plant modules in an efficient and food-safe process," says Osentoski "Phil's advanced sensors give the teams of plant and data scientists valuable information to optimize the entire closed-loop system of Iron Ox's greenhouses."
Grover also brings Phil modules for health check-ups throughout each plant module's growth cycle. Phil first takes a small sample of the water and nutrient mix. That sample goes into a reservoir equipped with sensors to measure the nutrient content and pH of the module. Iron Ox's plant science team uses these data to understand how the plants are consuming water, and the nutrients and at what rate.
Phil then senses the water level and adjusts it to match its target settings. Another sample is taken for validation. When Phil is done with his work, Grover takes the plant module back to its respective place in the greenhouse.
Hyper growth mode
Iron Ox's US$53 million Series C funding round this autumn was led by new investor Breakthrough Energy Ventures, an investment group backed by many of the world's top business leaders and dedicated to achieving net-zero emissions by 2050. Iron Ox is using this latest funding round to expand its intellectual property portfolio in robotics and artificial intelligence.
Earlier this year David Silver joined Iron Ox as the company's first Director of Robotics following leadership roles at Waymo and Google, where he was a Technical Lead for self-driving cars. The company is also accelerating its efforts to hire plant scientists, engineers, greenhouse operators and roboticists to join their dynamic team.