Critical mass
Vertical farming start-up Jones Food Company continues its rapid rise following Ocado's decision to increase its holding in the company – so what's next? 
Jones Food Company (JFC), which already operates Europe's largest vertical farm featuring 5,000m² of growing space in Scunthorpe, Lincolnshire, UK, has ambitious expansion plans for the future. The British start-up will open no less than three further sites in the next 18 months, buoyed by UK online retail giant Ocado's decision in August to increase its stake in the company to 70%, having initially taken a 58% share in November 2019.
In an exclusive interview with Food and Farming Technology, CEO and founder James Lloyd-Jones revealed the first new site will open in the Midlands by the third quarter of 2021, followed by a second site in South Wales in the first quarter of 2022, while plans for a third site remain under review.
"Each new site will be 2.4x the size of our existing facility in Scunthorpe," explains Lloyd-Jones. The company's original site can already produce up to 500 tonnes of herbs and salad across 12 crop cycles a year, in trays stacked 17 high. "We're effectively building a lot of capacity – as true efficiency and a price point that allows us to compete with traditional farming only comes with the scale that we're launching now."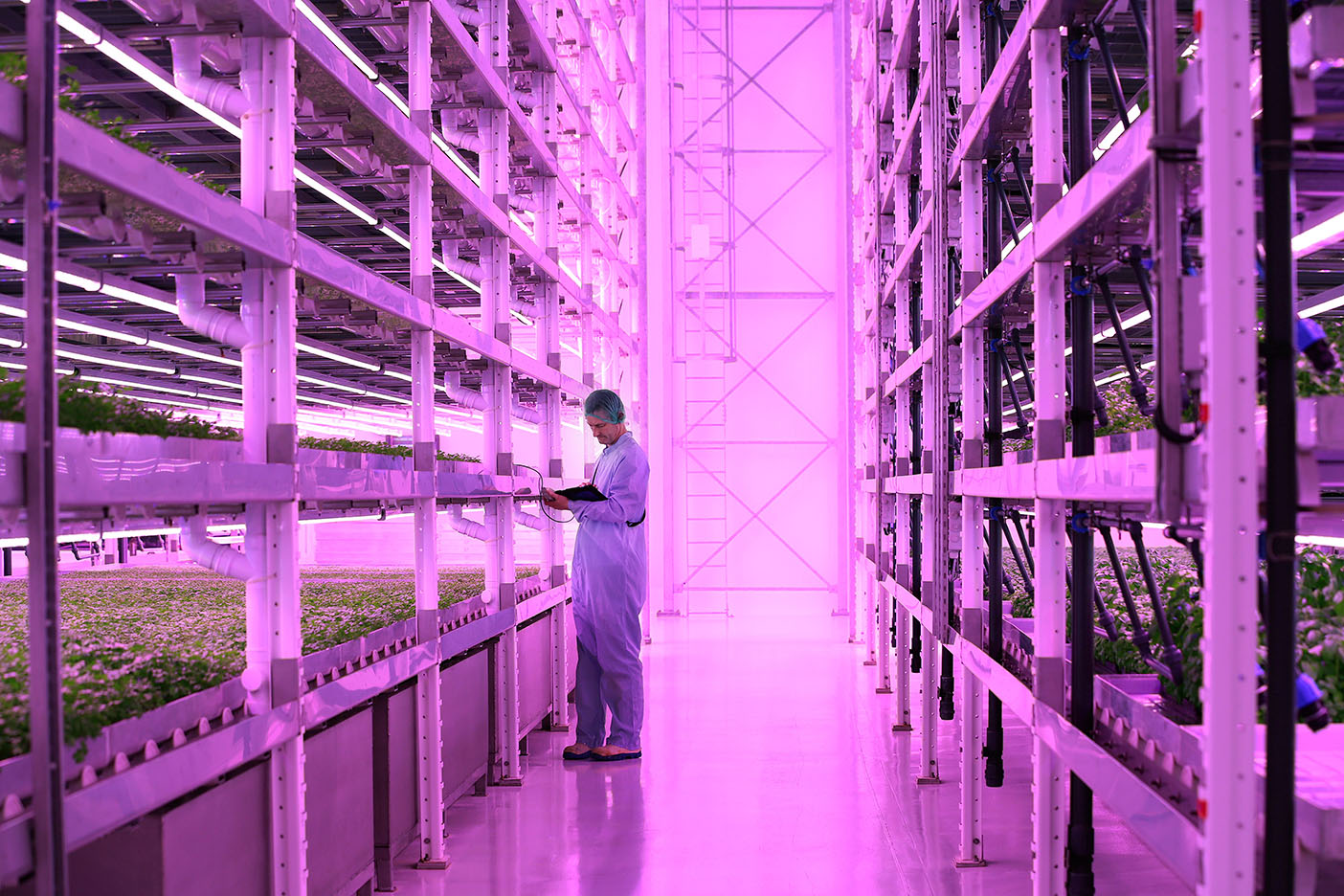 ---
In vertical farming, size matters
Having founded the company in 2016, Lloyd-Jones immediately began building the largest vertical farming facility possible in order to help overcome some of the operational problems inherent in smaller sites that had struggled to expand more organically. After visiting several vertical farms in Japan, he decided to focus on scale and automation from the very beginning. "One of our main drivers is to bring down the capital intensity and operating expense of vertical farming," he says.
JFC has invested heavily in automation and robotics to help reduce operating costs. Similar to a car factory, a production line sees plants move from one end of its Scunthorpe site to another over the 25-day growing period. To reduce labour costs, much of the work, including harvesting, is done by machines, with heavy lifting performed by a robot called Frank. Currently, only six employees are required to operate its existing plant.
"Ocado excels in automation," notes Lloyd-Jones, when asked what the online retailer's increased stake brings to the table. "Moving goods from point A to point B using automation is their specialty – their warehouses genuinely make Amazon look pedestrian in comparison!"
That expertise is now trickling into JFC, with the retailer advising on how to make facilities easier to operate and cheaper to build. "They're already helping us to better understand flows and processes, how to track and trace the product all the way through, and how to automate all of that," explains Lloyd-Jones.
"Once we have done the next three facilities, my goal for our fifth site is to effectively have a 'dark' warehouse, with just one operator looking at a screen to understand the product flow. It will take only one person to run a huge farm. That may sound like science fiction, but it could be very soon – certainly in the next five years."
Such a bold vision relies on the latest AI machine learning to guide the operator to make the right decision in seconds: "The environmental control software is critical," says Lloyd-Jones. "Lighting is an important element, but you need a system to put the lights on and automatically adjust them according to the needs of the crops you are growing."
In terms of what the company can produce, Lloyd-Jones says the sky is the limit: "Put simply, you can grow anything in a vertical farm. We've grown radishes, turnips, cut flowers, all sorts of stuff. You need to choose a highly perishable product that you can deliver at a good price point, because the capital expense of a vertical farm is still quite high. In the future, we're looking at developing soft fruits, berries, tomatoes, peppers and cucumbers. The challenge is making sure the systems are fit for purpose and adaptable so you can grow all sorts of different crops in the same infrastructure, and you can sell it at a competitive price."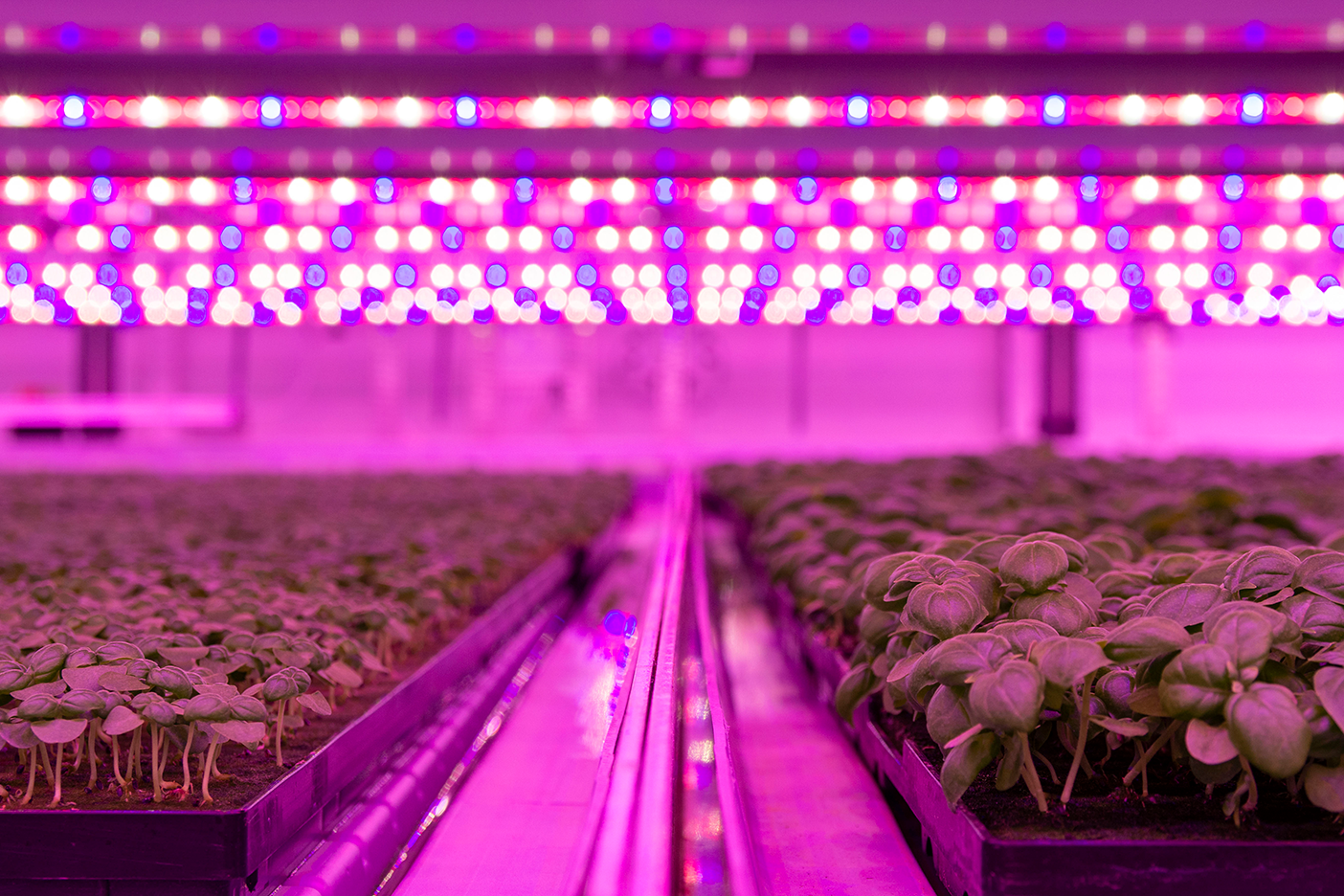 ---
Neighbourly love
Despite Ocado's recent investment, Lloyd-Jones denies JFC currently has any plans to set up vertical farms immediately next to the online retailer's grocery depots: "I don't think that's for now," he says. "To be next to their distribution sites, we'd need a clear business case that showed that we can help them as much as they can help us. They also don't want to stifle the innovation that comes from a small team rather than everyone sitting in a room and making decisions by committee. So we're very much off the lead and allowed to further the designs and choose the sites we think best."
The availability of renewable energy sources and overall building size remain key fundamentals when deciding on ideal locations, according to Lloyd-Jones, who has installed solar panels at JFC's Scunthorpe warehouse to make the business carbon neutral. "Everyone always beats us over the head about brown energy, so we have pushed very hard on renewables, and now the team's looking into our supply chain to make sure that they are doing as much as possible because we want to make it effectively a carbon negative business," he says. "We also look to see where possible sites are on the the motorway network for delivery, so we can grow, cut, harvest, and deliver the crop to the customer within hours."
The road ahead
Ocado's decision to increase its stake in JFC has given the company a huge shot in the arm: "It shows that there's a real confidence in the direction of where the technology is going and what it can answer," says Lloyd-Jones. "Just look at online shopping and how it has grown over the last 10 or 15 years – and then COVID hits and it goes up 5% in three weeks! Ocado understands that shortening supply chains and increasing automation is the future. For them to come in and say, 'These guys are already ahead of the curve, let's join them' – that's a real boost and speaks to the market as a whole. It's all about speeding up the production of food to be delivered and strengthening our supply chains for supply security."
However, at the same time it announced its original stake in JFC, Ocado also formed a three-way joint venture with Priva, a leading industrial systems provider to the horticultural industry based in the Netherlands; and 80 Acres, the US vertical farming heavyweight based in Cincinnati, Ohio.
With scale so crucial to future success, Lloyd-Jones remains realistic about a possible merger: "I think there'll be amalgamation in the market, with one, two or three large-scale vertical farms of our size clubbing together to get critical mass. You'll see vertical farming conglomerates that have large positions in the supply chain. It's a bit like the early days of the internet when there were lots of competing search engines, but then Google came out. That's where we are – which vertical farm can evolve the quickest."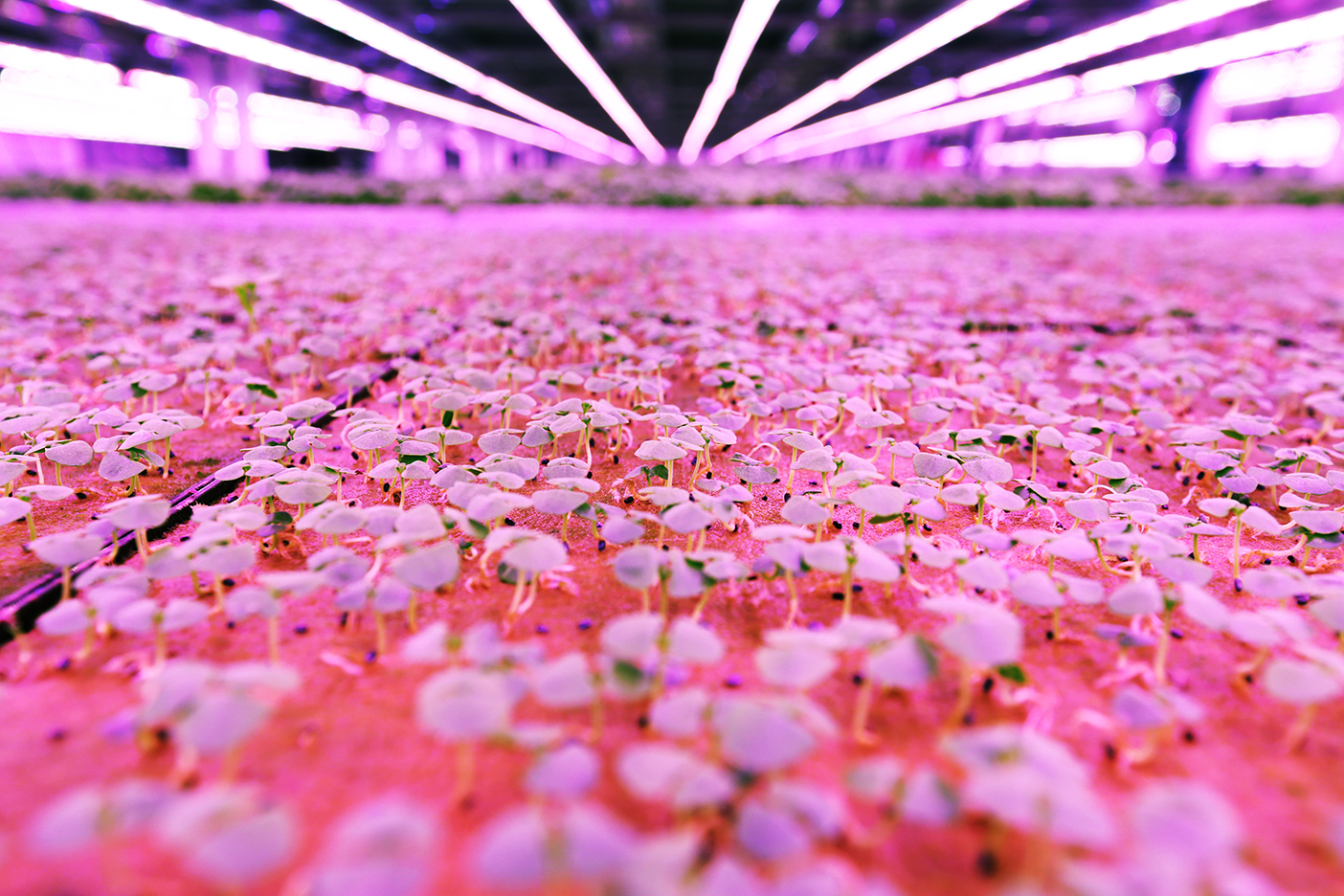 Images: Jones Food Company