After partnering with Germany's urban farming platform Infarm inside its Clapham Junction store earlier this year, M&S has now rolled out indoor farms to additional stores in Kensington, Stratford City, Bromley, Ealing Broadway, Marble Arch and Kings Road. The indoor vertical farming units deliver a range of fresh produce both grown AND harvested inside a store.
Infarm says its vertical farming units use IoT (Internet of Things) technologies and machine learning, to deliver a controlled ecosystem with the optimum amount of light, air and nutrients. Each unit is remotely controlled using a cloud-based platform, which learns, adjusts and continuously improves to ensure each plant grows better than the last one.
"We operate as part of a complex global food supply chain and want to understand the emerging technologies that could help provide more sustainable solutions, whilst also delivering fantastic products with exceptional taste, quality and freshness for our customers," says Paul Willgoss, Director of Food Technology, M&S Food.
M&S kicked off the partnership by offering a range of fresh herbs growing at its Clapham Junction store in South West London in September. One assumes that the go ahead of the pre-planned expansion to additional stores is a sign of success, good news for Infarm.
"London represents many of the sustainability challenges that people will experience in cities over the next several decades," says Erez Galonska, co-founder and CEO of infarm. "By offering produce grown and harvested in the heart of the city, we want to practice a form of agriculture that is resilient, sustainable and beneficial to our planet while meeting the needs of urban communities – first in London, and in the future, cities across the United Kingdom."
Each in-store farm unit uses 95 percent less water and 75 percent less fertiliser than traditional soil-based agriculture and can produce the equivalent of 400 square meters of farmland, resulting in a more sustainable use of natural resources and ensuring zero pesticide use.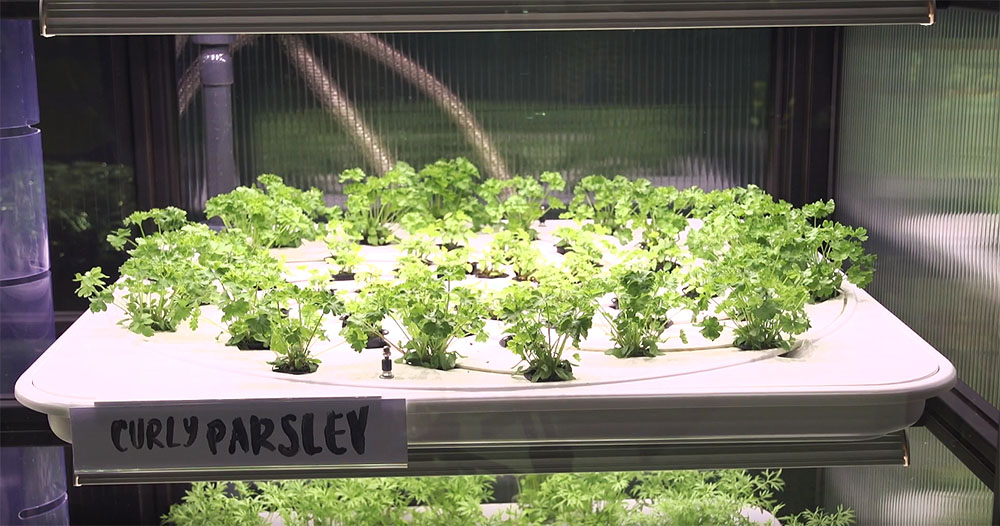 At the same time, it eliminates the costs of importing salads or herbs from other parts of the world, reducing the environmental impact.
Already seen in German and US supermarkets, M&S is the first UK retailer to work with Infarm. The partnership will be supported by the construction of a series of Infarm distribution centres in and around London which will provide the seedlings for each unit, which are then grown in store.
In addition, Infarm farmers will visit the stores at least twice a week to harvest and add new seedlings to the farm.