Food security in the UK is under increasing scrutiny in light of COVID-19 – can vertical farming scale up to provide a viable, long-term solution?
Anthony James
'Are automated indoor growing facilities the future for fresh produce?' This is the topic of a new online conference organised by Agri-TechE, a private sector membership body which aims to bring together organisations and individuals that share a passion for improving the productivity, profitability and sustainability of agriculture.
'CEA Lite', which takes place 10 September 2020, will provide a digital space for controlled environment agriculture (CEA) technologists, producers and investors to discuss the current landscape and highlight the most promising developments.
Dr Belinda Clarke, director, Agri-TechE, says new models of food production are gaining traction in the UK, with up to £90 million of government funding available to help businesses, researchers and industry to transform food production, meet growing demand and move towards net zero emissions by 2040.
"Year-round intensive cropping of high value crops becomes economically viable if the technology can scale," she says. "The Transforming Food Production call focused on big, inspirational projects and this will help de-risk the technology, particularly around automating the monitoring and harvesting, which are so problematic for open field production."
The secret to successful scaling, according to Nick Bateman, CEO at GrowPura, one of the companies presenting during CEA Lite, is to plan for high output from the very beginning.
"Unless you can address large markets, then this technology is not going to work," he says. "You need to be planning right from the start what you intend to do. For a large-scale facility, the issue is the build program is clearly longer and more detailed, however that does provide an opportunity to add more flexibility in the process. The more you're harvesting and packing, the easier it is to add automation and be less labour intensive."
Jock Richardson, a fellow director at GrowPura, adds: "A lot of operators have some great technology but to grow bigger means a linear (or worse) growth in costs. Scale up is vital but there are operational challenges of how we grow plants at scale and at low cost."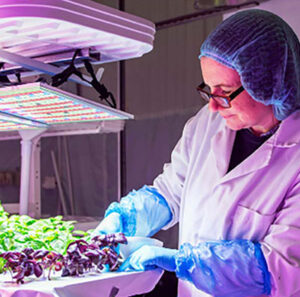 Growpura is currently developing a £22.5 million commercial-scale vertical hydroponics demonstrator facility at Colworth Park in Bedfordshire, UK, where it will grow herbs and leafy salads while developing a wider product range. The site will showcase the company's vertical conveyor system technology that continually move plants past sources of light, as well as its sophisticated irrigation and monitoring technology, all housed within a clean room environment to ensure the highest quality and yield.
"Operating as a clean room avoids the need to wash product, which is expensive and also deleterious to the end product," explains Bateman. "The conveyor allows us to move the product around, providing phenomenal flexibility and reducing the demand on our irrigation and lighting infrastructure, to ensure we make the most efficient use of all the assets."
The new facility will also have a strong focus on training, with plans to partner with regional college providers in order to offer over 130 apprenticeships by 2030. "A lot of our investment has been focused on exciting technology – AI, automation, robotics – but we also need skilled individuals to build a sustainable, viable operation," explains Richardson.
The company's vision is to become a provider of hydroponics expertise for those seeking to license the technology, with the Bedford plant acting as a demonstrator and training facility.
"Any food products from this facility will be ready-to-eat, clean products that can be immediately transported to retailers on a year-round basis," notes Bateman. "Given that hydroponic produce normally requires some level of treatment or cleaning before consumption, this is a significant improvement in the food production cycle."
"A vibrant hydroponics industry is essential in the UK," adds Richardson. "On the licensing front there has been interest from a number of countries, particularly in the UAE and Asia, and also for non-food products, which we are progressing keenly," Richardson continues.
What can be grown in a vertical farm?
So far, GrowPura has grown up to 60 different products: "We've farmed brassicas, herbs, quinoa, stevia (a natural sugar substitute)," says Bateman.
"For the moment, we're looking at leafy greens," adds Richardson. "In a clean room environment, we need to avoid the introduction of biological agents, which rules out flowering plants. However, there are technologies being developed to pollinate plants using robots, which could open up new possibilities of what could be grown in future."
David Farquhar, CEO of Intelligent Growth Solutions (IGS), also speaking at CEA Lite, offers prefabricated farms featuring growing towers that automatically deliver racks of plants to an adjacent processing area: "We can grow fruit like strawberries and chillies, we can grow roots like potatoes, radish, turnips, and so on. We can grow brassicas. We can grow leafy greens or herbs and all that kind of stuff."
However IGS is not planning on growing crops for commercial sale – instead preferring to focus on the technology itself and perfecting the 'recipes' to grow optimum crops within its systems. "We sell farms to farmers, they grow the crops," says Farquhar, who recently signed a deal with Aberdeen-based Vertegrow for a vertical farm that will provide over 1,300m2 of growing space, and deliver up to 70 tonnes of produce per annum.
It has also just completed a pilot project with the Singapore Food Agency, which achieved a 71% profit margin operating a 20-tower facility growing 564 tonnes of basil, green batavia, dill and spinach, a year.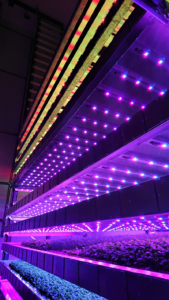 "The EBITDA figure suggests the customer could expect payback on their investment in just over two and a half years. In agricultural terms, that is lightning fast," notes Farquhar, who adds each tower can deliver 15x more produce than a glasshouse of the same square metre footprint.
"In order to work at scale, you have to be modular – and a module to us is two towers – and then you can add two or 20 or 200 more," continues Farquhar. "Each tower produces about 20 tonnes of crop a year – based on leafy greens – but you can double, triple or quadruple that for root vegetables, etc."
In the last six to nine months, Farquhar has seen a number of experienced growers who had initially built their own small-scale systems decide to give up on expanding their own technology and instead turn to IGS to buy an off-the-shelf solution: "The market is beginning to move from build to buy, which is a classic indicator of maturity. We have capacity to build 400 towers per annum, and we can easily increase that."
Total Control Environment Agriculture (TCEA)
Farquhar says IGS has developed 16 unique patents to deliver what it describes as 'Total Control Environment Agriculture' (TCEA), capable of coping with the rigours of large-scale operation: "The patents are to do with power and controls, physical design, automation, irrigation, illumination and ventilation."
The latter is particularly important in dealing with humidity, an inherent problem in towers where heat, moisture and oxygen all tend to rise, potentially damaging the plants nearer the top. To combat this, IGS has developed a solution which takes advantage of component inefficiencies within the system to deliver an even distribution of temperature, humidity and CO2 both at a tower and tray level. "The ventilation is actually in the trays," explains Farquhar. "We push cold air in, it picks up the extraneous heat from the LEDs and we turn that into a virtue."
Vertical farming's future outlook
IGS' Farquhar is certain the industry is on the cusp of rapid expansion: "I think the industry will mature – we will see more and more farmers deciding that they want to be growers and stop trying to build their own," he says. "Meanwhile, the UK and Scottish governments both now recognize that vertical farming has the ability post-Brexit and post-COVID to make an impact on food security."
"Vertical farming uses land more efficiently and ensures you have product available all year round, which is important for food security," concludes GrowPura's Bateman.
"It's pesticide free, you have reduced wastage and you are less dependent on manual labour, which is a concern post-Brexit. There will always be a mix of traditional and vertical, but ever lower operating costs will mean we can serve the mass market competitively."
---
CEA Lite is an online event being held on 10th September 2020 15:00 – 17:00. Register your interest