Located within a 30-minute drive of the heart of Dubai, Green Farm LLC's new indoor growing facility has commenced operations and expects its first harvest this month. The vertical farm utilises iFarm Leafy Greens technology and is the first to do so in the United Arab Emirates (UAE).
Built inside an industrial building, the 7.5m ceiling provides space for 44 vertical racks. These deliver a total growing area of 730m², all used to grow ultra-fresh leafy greens, microgreens and edible flowers under the 'Mama Natura Greens' brand.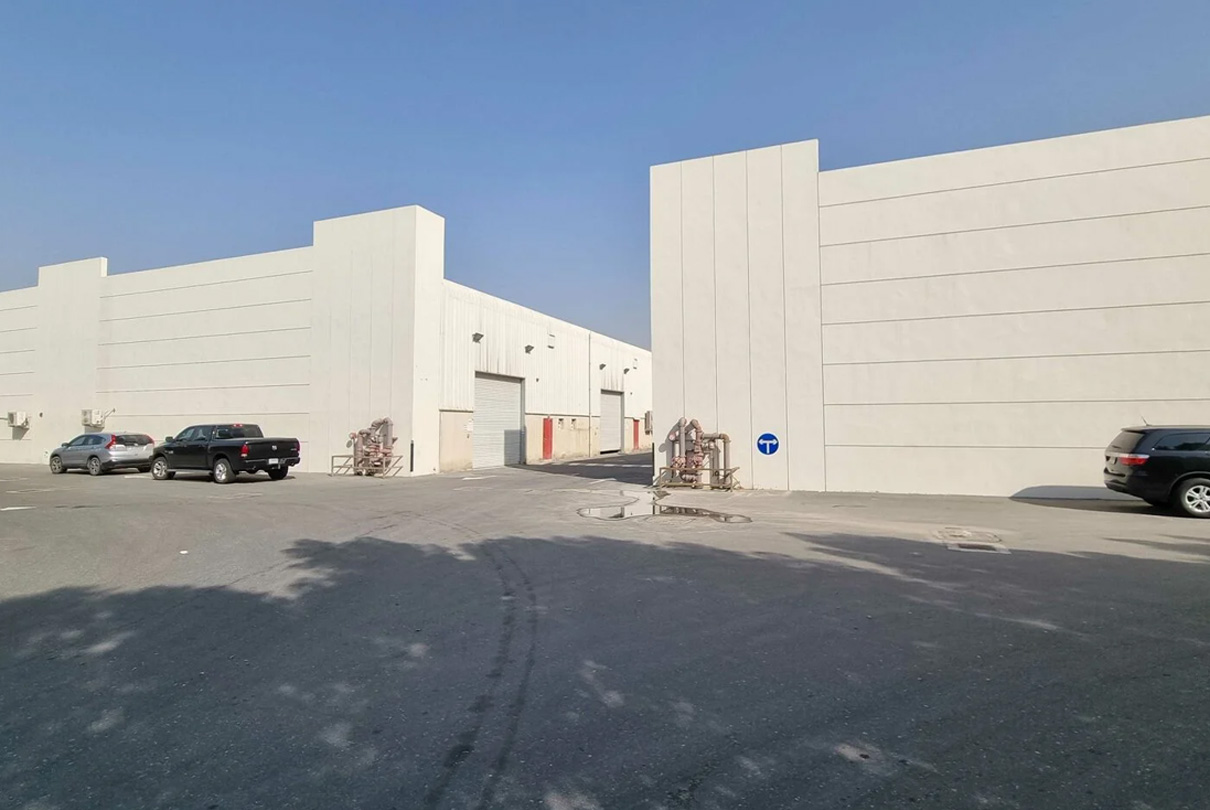 Green Farm aims to grow over 3 tonnes of produce per month, destined for restaurants, hotels and resorts in Dubai, as well as retail chains such as Spinneys, Geant, Grandiose and Carrefour.
One of the farm's products is microgreens. These are sprouts from radish, broccoli, red mustard and other crops. Because of the short growing cycle, microgreens are very profitable – they are harvested just 7-14 days after planting.
"Baby leaves and leafy greens will also take their place on the vertical multi-level racks. We also plan to grow edible flowers – violas, begonias and electric flowers. We expect the first harvest on the farm this month," says Nikita Zubko, managing director of Green Farm.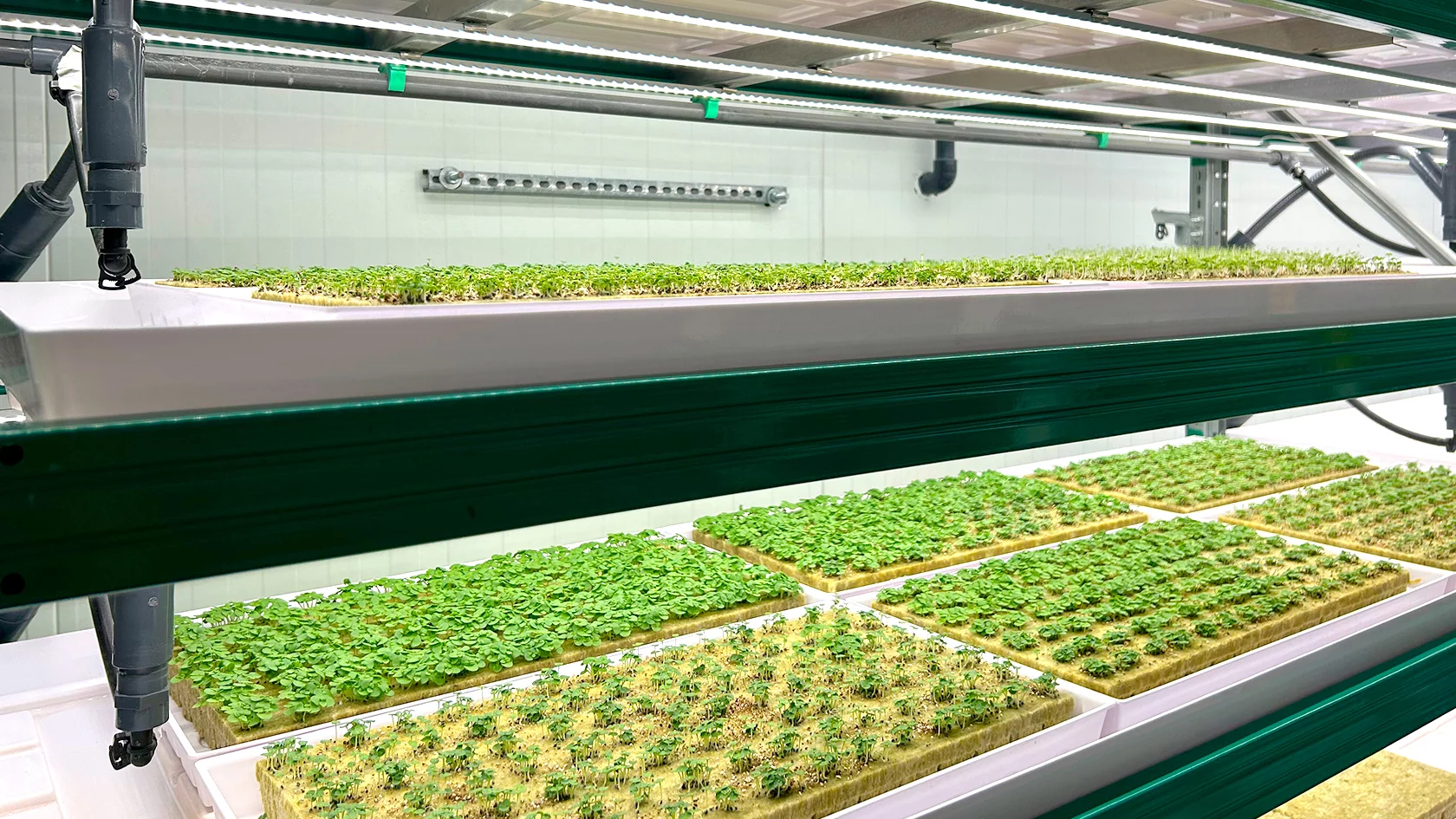 Vertical farm management software
As part of the iFarm Leafy Greens technology offering, the new farm is managed by iFarm Growtune, an all-in-one IT-driven farm management software. The SaaS platform contains knowledge sourced from hundreds of farming professionals – agronomists, plant health specialists, engineers and biologists. iFarm Growtune contains a library of more than 158 plant growth recipes, stock management tools, farm business records, and other analytics tools needed to achieve high-quality yield within a highly predictable timeframe.
"By implementing iFarm Growtune for automation, we have optimised our payroll," Zubko explains. "We now have just 5 employees on the farm, handling basic production operations, while we have entrusted the oversight and control of complex technological processes to iFarm Growtune software."
iFarm's Ebb & Flow irrigation system
The main difference between iFarm Multigreens and other iFarm vertical farming technologies centres around the hydroponic system employed. The new Dubai farm uses the Ebb & Flow system, also known as Flood & Drain, which involves the periodic flooding and draining of nutrient solutions.
"Ebb & Flow enhances oxygen supply to the plant roots, resulting in more efficient nutrition. The new hydroponic system, combined with higher planting density in the seedlings area, has led to record yields per square meter of growing area. For example, when using iFarm Multigreens technology, Friese lettuce yields 38% more than on peat farms with a different watering and planting method," explains Nikolay Podvigin, agricultural technologist at iFarm.
More iFarm powered vertical farms expected in the GCC region
Founded in 2017, iFarm moved its headquarters from Helsinki, Finland to Abu Dhabi earlier in 2023. "Nearly a year ago, iFarm moved its headquarters to Abu Dhabi. Since then, there have been two fully operational farms built with iFarm technologies in the GCC region: Bather Smart Farm in Saudi Arabia and the newly launched Multigreens farm in the UAE. The Emirates has established itself as a thriving Food & Beverage hub where the consumption of ultra-fresh greens and herbs has grown significantly over the last years. Consumers are willing to pay more for the quality, taste, and safety of food. Currently, we are negotiating the supply of vertical farming equipment to several other customers in the Emirates. Overall, we see a significant potential for vertical farming in the country." said Alexander Lyskovsky, CEO of iFarm.
---
Green Farm's layout